Info
Image

Initial Skill

Name: Chrysanthemum
Type: Tool Spirit

Effects

Produces a fragrant Chrysanthemum.

6th Spirit Ring (Manhua Only) Edit

Name: Thousands and Millions of Tree Leisurely Blooms Flowers

Effects

Flower petals are placed on numerous trees whose leaves are then converted into flowers. The newly converted flowers then form one flower which produces a deadly barrage of all the converted flowers once used as an attack.

Spirit Ring

Origin: Unknown
Age: 10,000+ years
Colour: Black

7th Spirit Ring Edit

Effects

The Odd Velvet Heavenly Chrysanthemum strengthens, grows considerably larger, and is seemingly connected to Yue Guan.

Spirit Ring

Origin: Unknown
Age: 10,000+ years
Colour: Black

8th Spirit Ring (Manhua Only) Edit

Effects

Produces an intense golden light.

Spirit Ring

Origin: Unknown
Age: 10,000+ years
Colour: Black
Spirit Fusion
Edit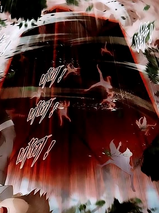 Yue Guan along with Gui Mei can use spirit fusion This union produces the Dark Eclipse.
It has the ability to repel a dual attribute domain. It appears as a gold and silver glittering ring of light.
Ad blocker interference detected!
Wikia is a free-to-use site that makes money from advertising. We have a modified experience for viewers using ad blockers

Wikia is not accessible if you've made further modifications. Remove the custom ad blocker rule(s) and the page will load as expected.