Devil Monster

Name
Devil Monster
Chinese
Also Known As
Type
Spirit Fusion
Description
Edit
Devil Monster is a Spirit Fusion ability between Hu Liena, Xie Yue and Yan.
Appearance
Edit
Devil Monster appears with long purple hair, face covered by a fox's mask, cloak of blue and red in color on each side and Half Moon Blades on each hand.
Abilities
Edit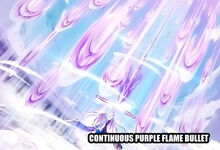 Continuous Purple Flame Bullet
Ad blocker interference detected!
Wikia is a free-to-use site that makes money from advertising. We have a modified experience for viewers using ad blockers

Wikia is not accessible if you've made further modifications. Remove the custom ad blocker rule(s) and the page will load as expected.